My Blog
Posts for: May, 2019
By Parmer Oaks Dental Care
May 18, 2019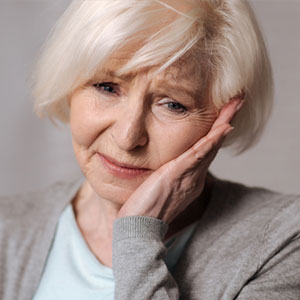 Every May, the National Fibromyalgia & Chronic Pain Association asks people around the world to spread awareness of fibromyalgia and other chronic pain conditions. Anyone with fibromyalgia and its associated joint and muscle pain knows all too well how chronic pain can disrupt everyday life. And as we see frequently in the dental office, people contending with the jaw pain and dysfunction associated with a temporomandibular joint disorder (TMD) can equally relate.
But here's the kicker—if you've been diagnosed with either TMD or fibromyalgia, there's a good chance you're also dealing with both conditions. For example, in one recent survey of over a thousand TMD patients, two-thirds reported also having fibromyalgia or similar kinds of health issues. Researchers are looking intently at possible connections between TMD and fibromyalgia since understanding any potential link between the two might open the door to new ways of treatment.
Fibromyalgia patients experience frequent muscle spasms and fatigue throughout their bodies, coupled with other problems like sleeplessness and memory difficulties. Most researchers today believe it's caused by a malfunction within the central nervous system (CNS) to process pain. Those working with TMD research are also considering whether the same type of malfunction contributes to jaw joint pain and dysfunction.
TMD is an umbrella term for various disorders involving the jaw joints and associated muscles. When you come to the dental office, it is important that we know about any TMD pain you may be experiencing because this can affect your dental visits. For example, people with TMD may have trouble holding their mouth open for an extended period of time, so we can adjust dental exams and treatments accordingly. Also, we will want to look for underlying dental conditions that may have contributed to your TMD.
If you're experiencing both TMD and fibromyalgia symptoms, be sure you let us as well as your rheumatologist know the various symptoms you're experiencing with each condition, the treatments you're undergoing and the medications you're taking.
For TMD in particular, here are a few things you can do to reduce its impact on your daily life:
Avoid foods that require heavy chewing or jaw widening;
Use thermal therapies like warm compresses or ice packs to ease jaw stiffness and pain;
Practice relaxation techniques to reduce stress in your life;
Ask about muscle relaxants or other medications that might help.
You may find that some of these practices, particularly stress reduction, are also helpful in managing fibromyalgia. And if there is a deeper connection between TMD and fibromyalgia, unraveling the mystery could hopefully lead to even greater relief for both.
If you would like more information about managing your symptoms, please contact us or schedule an appointment for a consultation. To learn more, read the Dear Doctor magazine articles "Chronic Jaw Pain and Associated Conditions" and "Fibromyalgia and Temporomandibular Disorders."
By Parmer Oaks Dental Care
May 08, 2019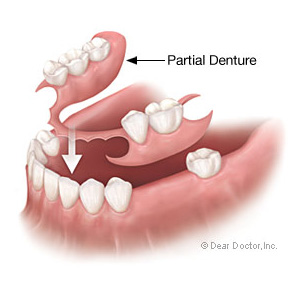 If you have a few missing teeth but can't afford dental implants or fixed bridgework, consider a removal partial denture (RPD). Although implants may be the superior choice aesthetically and functionally, an RPD can still effectively give you back your teeth.
RPDs are designed to replace one or more missing teeth but not a full arch like a full denture. Considered a permanent restoration, RPDs are also more durable than transitional "flippers," denture appliances that are flexible and light enough to be flipped out of the mouth with a flick of the tongue.
The key to both their affordability and durability is vitallium, a strong but lightweight metal alloy most often used in their frame construction. To it we attach artificial teeth usually made of porcelain or glass-filled resins that occupy the precise location of the missing teeth on the gum ridge. The artificial teeth and frame are surrounded by gum-colored plastic for a more natural look.
Each RPD is custom-made depending on the number and location of the missing teeth. Its construction will focus on minimizing any rocking movement of the RPD during chewing or biting. Too much of this movement could damage the adjacent teeth it's attaching to and cause the appliance to be uncomfortable to wear. We can stabilize the frame by precisely fitting it between teeth to buttress it. We also insert small rests or clasps made of vitallium at strategic points to grip teeth and minimize movement.
RPDs do have some downsides: their unique attachment with teeth encourages the accumulation of dental plaque, the thin bacterial film that's the leading cause of tooth decay and periodontal (gum) disease. These diseases can affect your remaining teeth's health and stability, which could in turn disrupt the fit of the RPD. Also, too much movement of the appliance can make the teeth to which it's attached become more mobile. It's important, then, if you wear a RPD to remove it daily for cleaning (and to thoroughly brush and floss your natural teeth), and to remove it at night to give the attaching teeth a rest.
A RPD can give you back the teeth you've lost for many years to come—if you take care of it. Maintaining both your RPD and the rest of your teeth and gums will help extend the life and use of this effective and affordable replacement restoration.
If you would like more information on teeth replacement options, please contact us or schedule an appointment for a consultation. You can also learn more about this topic by reading the Dear Doctor magazine article "Removable Partial Dentures: Still a Viable Tooth-Replacement Alternative."