My Blog
Posts for: June, 2015
By Parmer Oaks Dental Care
June 18, 2015
Want to replace one or more missing teeth? Dental implants fill in your smile.
Although they're fairly new compared to other dental restorations, dental implants are very popular now. Their convenience and visual
appeal are advertised on billboards and in commercials. Perhaps you've seen pamphlets on them in your Cedar Park, Texas family dentist's office. You may even know someone who's gotten them. All this attention may have you wondering if dental implants are right for you. Dr. Jason Dyson of Parmer Oaks Dental Care is happy to answer some basic questions.
What are dental implants?
Dental implants are permanent tooth restorations. They are made up of three separate parts that fit together. The first part is the titanium post, which looks like a tiny screw. At Parmer Oaks Dental Care, Dr. Jason Dyson will surgically place the post under the gum line. The spot in your mouth, where the post is implanted, will have just a few days of healing time, but several months of bone growth will be required to ensure that the post is fully integrated into the mouth creating an artificial root. The middle section of an implant is called the abutment. It is attached to the top of the post after it is fully healed. The abutment holds the top part - the crown - in place. Crowns are made of porcelain or ceramic and look just like natural teeth.
How do I know if they'll work for me?
Your Cedar Park dentist will tell you that dental implants are used to replace teeth for a number of reasons. They can replace just one tooth or an entire set; denture plates are then held securely in place by implants rather than unreliable adhesive paste, making them a very durable and natural-looking alternative to traditional removable dentures. Regardless of how many you might need, dental implants making eating and speaking much easier and help support your remaining teeth and jawbone. You can be assured that dental implants from Parmer Oaks Dental Care will be of the highest quality and will look and feel very natural. They don't require any extra maintenance; daily brushing and flossing and regular appointments with your Parmer Oaks dentist mean that they can last a lifetime.

It's important to note that dental implants are not for everyone. If the jawbone has deteriorated from years of tooth loss or poor dental hygiene, or if the immune system is compromised, Dr. Dyson may offer some other options for restoring your smile. Contact Parmer Oaks Dental Care in Cedar Park, Texas to find out if dental implants will work for you.
By Parmer Oaks Dental Care
June 15, 2015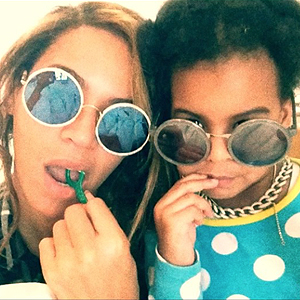 As is the case with most celebs today, Beyonce is no stranger to sharing on social media… but she really got our attention with a video she recently posted on instagram. The clip shows the superstar songstress — along with her adorable three-year old daughter Blue Ivy — flossing their teeth! In the background, a vocalist (sounding remarkably like her husband Jay-Z) repeats the phrase "flossin'…flossin'…" as mom and daughter appear to take care of their dental hygiene in time with the beat: https://instagram.com/p/073CF1vw07/?taken-by=beyonce
We're happy that this clip highlights the importance of helping kids get an early start on good oral hygiene. And, according to authorities like the American Dental Association and the American Academy of Pediatric Dentistry, age 3 is about the right time for kids to begin getting involved in the care of their own teeth.
Of course, parents should start paying attention to their kids' oral hygiene long before age three. In fact, as soon as baby's tiny teeth make their first appearance, the teeth and gums can be cleaned with a soft brush or cloth and a smear of fluoride toothpaste, about the size of a grain of rice. Around age 3, kids will develop the ability to spit out toothpaste. That's when you can increase the amount of toothpaste a little, and start explaining to them how you clean all around the teeth on the top and bottom of the mouth. Depending on your child's dexterity, age 3 might be a good time to let them have a try at brushing by themselves.
Ready to help your kids take the first steps to a lifetime of good dental checkups? Place a pea-sized dab of fluoride toothpaste on a soft-bristled brush, and gently guide them as they clean in front, in back, on all surfaces of each tooth. At first, it's a good idea to take turns brushing. That way, you can be sure they're learning the right techniques and keeping their teeth plaque-free, while making the experience challenging and fun.
Most kids will need parental supervision and help with brushing until around age 6. As they develop better hand-eye coordination and the ability to follow through with the cleaning regimen, they can be left on their own more. But even the best may need some "brushing up" on their tooth-cleaning techniques from time to time.
What about flossing? While it's an essential part of good oral hygiene, it does take a little more dexterity to do it properly. Flossing the gaps between teeth should be started when the teeth begin growing close to one another. Depending on how a child's teeth are spaced, perhaps only the back ones will need to be flossed at first. Even after they learn to brush, kids may still need help flossing — but a floss holder (like the one Beyonce is using in the clip) can make the job a lot easier.
If you would like more information about maintaining your children's oral hygiene, please contact us or schedule an appointment for a consultation. You can learn more by reading the Dear Doctor magazine articles "Top 10 Oral Health Tips For Children" and "How to Help Your Child Develop the Best Habits for Oral Health."